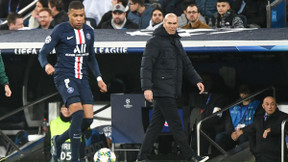 A senior player in Fabien Galthié's XV de France, Gaël Fickou is also a big football fan. Having a particular passion for OM, the Blues center also has players who he particularly likes. So who are the footballers appreciated by Fickou? It turns out that Kylian Mbappé and Zinedine Zidane are favored by the French XV player.
Today, theFrench team football is driven by the talent of Kylian Mbappé. A few years ago now, it's a certain Zinedine Zidane who was the face of the Blues. Obviously, thanks to their performances, the two French people have inspired many people and this even goes beyond football. Indeed, within the XV of Francewe are also fans of Mbappé et Zidane. This is the case of Gaël Fickou. Passionate about football outside of rugby, the player Racing 92 said all the good things he thought of Kylian Mbappé et Zinedine Zidane.
XV of France: Boudjellal's truths on the Galthié controversy https://t.co/liwlpvMRVD pic.twitter.com/5Zngg5GySG

— le10sport (@le10sport) September 20, 2023
Fickou impressed by Kylian Mbappé
It was during an interview given to the Parisian what Gaël Fickou confided in Kylian Mbappé et Zinedine Zidane. First of all, regarding the current attacker of theFrench team a you PSGthe player of XV of France dropped : " He lifts a youth up », while saying he was impressed by his prowess, by his maturity and the example he sets.
"Zidane? I liked his talent but also what he exuded"
What then of Zinedine Zidane ? Gaël Fickou said about Zizou: " I liked his talent but also what he exuded. He is a respected person. He seems to be calm but you shouldn't look for him. I love these guys, who don't get confused for nothing but who we listen to when they talk. Other players inspire me or have inspired me like Patrick Vieira, a legend, or Sergio Ramos for his fighting side ».