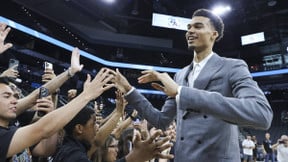 Drafted in first position in the 2023 Draft, Victor Wembanyama has been living a real waking dream for several weeks. A dream that the French phenomenon must live for himself, but also for his many fans. In an interview with the press on Monday, Wemby spoke about how he deals with becoming a superstar.
Silent since July, Victor Wembanyama made his return to the media before the start of the NBA season. And it's on the sidelines of the preview of the documentary " UN1QUE ", produced by Canal+ and retracing the last year from the inside of Spurswhat Wemby was able to answer a few questions about his new life. He notably mentioned a passage from the documentary, where there is a lot of emotion when he opens fan letters with his mother.
Damian Lillard names his favorite NBA player https://t.co/WbiLXOFNZg pic.twitter.com/vsWEhX4uHS

— le10sport (@le10sport) September 21, 2023
"It's a responsibility"
It was during this visit that Élodie Wembanyama, Victor's mother, said to her son: " You make people happy. » And the young player gradually becomes aware of this: " It is truly a great power held in the palm of the hand. That's why I try as much as possible to take the time, even two minutes, when it's for a kid on the sidelines. For me, it may be the thousandth child I will see, but for him, it will be the first and surely the last time he sees me. It's a responsibility. Maybe I didn't realize how big it had become in the last six months or so, but I realized little by little in the United States that it was crazy. » he blurted.
"The universe speaks to me"
Moreover The animal is convinced of having this "power" thanks to the universe: " It's a bit mystical what I say, but I know that the universe speaks to me, that it helps me. That's why I try to do what I love: I was made as I am and I have to make the most of what was given to me. » Anyway, see you on October 25 against the Dallas Mavericks for the start of the new adventure of Victor Wembanyamahoping the universe helps him again!